Some people have a high tolerance for discomfort and our son is one of them. I found out the hard way, when he was little and had a nasty case of strep that I didn't catch for days because he just stopped eating and never complained. After shining a flashlight in his mouth the doctor asked "Doesn't your throat hurt?" To which he replied, "Only when I swallow." He was 3.
Enter this "throat coat." It's perfect for when your throat hurts so badly that you dread swallowing.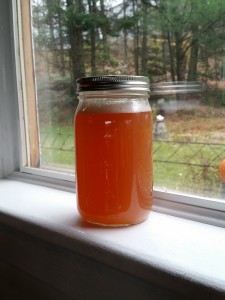 Most folks harvest quince for their flesh, but I have always pursued it for the pips (seeds) and skins. In San Diego it is hard to come by, so I was thrilled to find it grown locally here in Vermont! With winter (and cold/cough season) just around the corner I seized the opportunity to stock up on our homemade quince syrup. A relative of the apple, quince contains a TON of pectin and the seeds and skins are mucilaginous, which functions a cough suppressant. This makes it similar to slippery elm bark and marshmallow root.
Quince Throat Coat
Wash and dry 4-6 quince (washing gets the peach-like fuzz off; you want unbruised fruit or you'll need to discard the brown parts)
Peel over a pot (letting the peels fall into the pot) and reserve the fruit for another recipe. You might make a tart, jelly, compote…quince aren't palatable raw, but when cooked they turn into the prettiest pink color and will perfume your kitchen at the same time.
Cut and add the cores and seeds into the pot, too. I make sure I roughly chop the cores to free up the seeds since I want them to release their magic into the water.
Add about 2 quarts of water.
*You can then add whole spices or herbs to customize. I usually add a few cloves and an orange peel, but today I made membrillo/quince paste first, so I threw in the lemon rind and leftover vanilla bean (unsplit – otherwise the flavor would be too strong for my taste in both the membrillo and syrup).
5.  Simmer over low-medium heat for an hour or two, keeping an eye the water level and reducing the heat if it starts to boil.
6.  Remove from heat and strain (I pour it through a sieve over a large bowl), and then add raw honey and mix thoroughly (whisk, blend, etc.). I add the equivalent of about one-half of the amount of liquid to start and then taste it.
You can then pour some into a jar – but I also fill a few ice cube trays and freeze them into what my son has dubbed "lozenges." Once frozen, I pop them out into a freezer bag or container and save in the freezer. These come in very handy in the event someone contracts a sore throat that hurts so badly they won't swallow.
After sampling today's batch my son said "it tastes just like it smells" – which is a GOOD thing. And you know what? I'm thinking it would also be tasty in a cocktail made with gin…