We pulled in to Woodstock late at night and from the West, so that we drove through the center of town to get to the Inn where we'd be staying.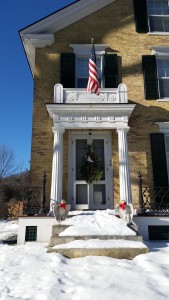 The trees on either side of the main drag were wrapped in white lights and the doorways were still adorned with red ribbon and greenery. It occurred to me that one could do that here, where it's reliably cold in the winter, whereas in most of California the folks have come to rely on inflatable and mechanized yard "decorations" to commemorate the season. I much prefer this.
The air outside was crisp and millions of stars twinkled overhead. A kind doorman ushered us towards the roaring fire in the lobby, the birch logs at least five feet long. After a good night's sleep, we woke up and ventured outside in search of breakfast. There was snow, but not a ton. Some of it had melted in an earlier temperature spike on Christmas Day. Our son enjoyed sliding around the pockets of ice on the sidewalk created by melted snow.
On the way to the diner we walked past the "Woodstock Town Crier" – a community blackboard posting the week's events and flanked by a clock on one side and a thermometer on the other. According to the picture I took, it was 10 degrees.
We got to the diner, carefully ascended the wooden steps coated with ice, went through the first storm door and then an inner door, only to enter directly on top of a holiday crowd already enjoying their breakfast.
"How many?" Three?" shouted a voice from behind the counter. We nod. "Wait outside." So the three of us conspicuously turned and headed back out the two doors and down the icy stairs to wait on the sidewalk in 10 degree weather.
By the time we were called back our stomachs were grumbling. The waitress was no-nonsense and didn't suffer fools. I complimented her necklace and she just stared at me before walking off with the coffee pot.
Little did I know I'd eat there again, many times. And just 8 months later, I'd be back sitting at that same table – this time with a friend as my witness – when the same waitress, rushing to attend another group, would set a cup of coffee in front of me without a word (but not for my guest). My friend would high-five me as I grinned ear to ear. I'd officially belong.
But that was in August, and I'm still memorializing December with this post. We did all the touristy things – took a sleigh ride and studded oranges with cloves at Billings, snow-shoe hiked up Mt. Tom, took a ski lesson from a fellow Waldorf mom who runs a super-sustainable farm and teaches at the law school nearby… little by little things resonated with my soul, such that I'm not sure whether I realized it the time I walked into the local butcher shop and saw three kinds of bone broth for sale, or noticed the fact that our son seemed completely different here (relaxed, happy), but within 3 days of our arrival I turned to Greg and said "You know, I could live here."