At the end of our trip I persuaded Greg to drive by a few listings on our way to the airport. It was snowing, hard, and we needed to catch a flight, so we were pressed for time and never got out of the car. Still, none of the houses that seemed attainable really captured my attention. They were right on top of one another, with small yards even by Southern California standards.
While property in Vermont is vastly less expensive than what we are used to in San Diego, I knew I wanted to be in the Village if we could be so lucky, and that location commands a premium. Out in the country we could purchase a rundown farmhouse for a (relative) song, but even though I have run a CSA program, raised chickens and maintained a modest garden, I have no illusions that I could be a farmer. I revere and appreciate farmers. I support farmers, with my pocketbook and my vote. But visions of being responsible for livestock and cut off from civilization in the middle of a Vermont winter made the search easy – we needed to be in town.
As we drove around I filed the dream away as a 3 to 5 year plan. We'd save up for what would be a second home. One we could rent when we weren't there. The rental market had already proven itself as I couldn't find a place to stay on short notice other than the Inn, and their availability dictated our arrival date.
During the flight home I felt wistful. I hated to leave. So I comforted myself per usual – with research. First, I looked up whether we could be admitted to practice law in Vermont. Jackpot! A recent change in the law permitted us to apply to the bar after taking classes, instead of studying and sitting for another bar exam. I then searched for the Waldorf school my ski instructor had mentioned. Located 15 minutes from Woodstock, our commute would be cut in half. Last, I searched online for the cheapest house on the market located within the Village. It obviously needed work, but the plot of land was remarkable and the price had just been reduced. An acre and a half in the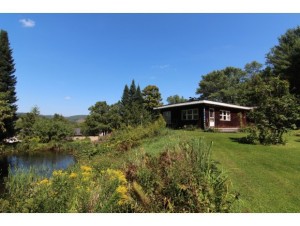 Village, with a spring fed pond. I could have my cake and eat it, too! I pored over the photographs and showed some to Greg, who was sitting next to me so our son could sit by the window (on family trips mama gets the shaft middle seat, every time). Greg gave me a confused look, as in, he either didn't understand why I was spending time on this, or was afraid of what would come next.
We got back home to San Diego and saw that our contractor had done very little work while we were gone. The windows were still in our garage. Our bedroom wall was still plastic. I was so disappointed. But we quickly got back to our routines, added to by my practice of stalking the Woodstock house online at night from my iPad while in bed. I'd upload the photos and expand them as large as I could, honing in on all the built in cabinetry, creating a floor plan in my mind, imagining what was behind all that wallpaper… and was I really seeing plastic lids screwed in behind the kitchen cupboard knobs as coasters?
For two weeks I could not get this house out of my mind. I ran numbers. I looked at our finances. I consulted our tax advisor as to the nuances of a rental property and then asked our realtor to look at the listing and give me his honest opinion. His feedback was positive. I looked some more and chewed on all the information I had at my disposal. A few days later I asked Greg if I could please, pretty please, have our agent call "just" to inquire about the place. Ever the easy going guy, he shrugged and said "Sure."
Our agent called and then gave me the rundown. The house needed a new roof and was being sold by the family of the man who built it. He was 98 and no longer able to live alone. It sounded like a fantastic opportunity. We agreed on a number and he relayed it informally for us. I immediately got a call back and was told that the family had also received another offer. My heart sank. Oh, and from this point on I'd have to communicate with the listing agent, as ours was not licensed in Vermont.
I knew I should have acted sooner! We were still in the running, but I was sick to my stomach. I wanted the house all the more. I was told that the listing agent would call me the next day, a Sunday. I sat by the phone all day, my stomach tying itself into knots. The day passed by so slowly, and still no phone call. My mother had come over for dinner and we were just about to sit down when my cell phone rang. The area code was 802.
I ran outside with the phone and answered. The agent cheerily introduced himself, and in the same breath apologized for not calling sooner – explaining that he had to referee a cross country ski race in town with over 200 attendees and afterwards they lit lanterns that floated up into the sky. Without thinking, I enthusiastically interrupted him saying "and THAT's why I want to move to Vermont!"
We laughed together and continued to chat; I explained our current position – having just moved and being stuck in a horrendous remodel. I remember saying that I didn't have the stomach for another bidding war and I'd appreciate him telling me if we should just bow out gracefully. He responded that he would never put us in a bidding war – that wasn't his style – and I trusted him. He asked me to tell him a little more about ourselves, and it felt like I was being vetted. I developed the feeling that it mattered as to who would be the next stewards of this house and land.
I signed off with the realtor and he told me he'd speak with the family and get back in a day or two. Then I sheepishly headed back inside to apologize to everyone who had waited for me to eat dinner. It turns out the realtor from Vermont and I had spoken for over an hour. The whole process felt so much more transparent than anything we'd gone through in California.
Again, I carried my phone everywhere and my adrenal glands churned. Two days passed and we heard nothing. We went to watch a friend's basketball game and I was distracted. Every fiber in my being ached for positive news. When we got back to our car I checked my email and there it was – the family accepted our offer. No counter-offer, they just asked that we get there within the next 30 days to actually see the place and remove contingencies. A house in Woodstock would be ours.