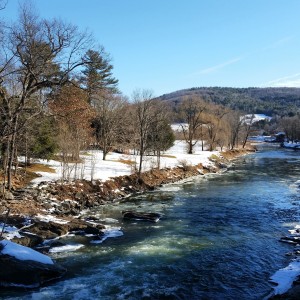 The long version is this:
2014 was a challenging year.  My husband and I had recently merged our law practices; I worked out of the laundry room while he worked out of the garage.  He also traveled a lot, while I attempted to hold down the fort with our son, dogs and chickens – all while serving as an executive with a $50M company.  I was also the room parent for my son's class and hosted 3 different CSA programs. (I still don't know what I was trying to prove)
Then we decided to move and buy 2 home offices a bigger house and sell the one we were living in (in San Diego – not VT, yet).   Should I mention that we found and bought that house within an 18 day escrow period?  Truly, in one month we went from planning to remodel our old house to finding our "dream house," buying it, packing up our life and moving.  It was nuts.
Within 1 week of closing I had the floors refinished, baseboards installed and master bath gutted.  We did the demo before we moved in an attempt to limit the mess we'd have to live with AND because I was worried that, if we moved in first, we might end up living with the ugly brown bathroom with the slow shower drain and weird sliding glass door to the backyard opposite the toilet for a long time. I mention this because it now seems like a pivotal decision point in our ending up on moving to the opposite side of the country.
My husband was on the road the week the movers came and our son conveniently spiked a fever and an earache at midnight the night before, so that at 1 AM I unpacked a pan and was simmering garlic and onion in olive oil for a naturopathic compress.  By 2 AM we were at the drive-thru pharmacy to buy children's Motrin with hopes of sleep pain relief for him.  The next day I negotiated a six figure settlement by phone from our new driveway while our son (thankfully earache and fever-free but not at SCHOOL) played on the loading dock of the moving truck and the movers struggled by with our mattresses.  It was 90 degrees; neither house has A/C.
We moved in early September of 2014 and thus embarked on a remodel worthy of Dante's Inferno.   We hired a family friend as the contractor (mistake #1), didn't insist on a contract (mistake #2), agreed to pay him on a time and materials basis vs. fixed bid (mistake #3), forked over tens of thousands of dollars before we received an accounting three months later (mistake #4) and…I'm sure there are more mistakes we made, but you get my drift.
I promise we're not idiots.
Whether the stress of the move caught up to him or something else was going on, I'll never know.  But late Oct-early Nov were filled with calls from my son's school asking me to pick him up early because he wasn't "having a good day."  Don't get me wrong, I LOVE my son's old school and teacher.  They recommended we consult a doctor we had worked with in the past to see if anything out of the ordinary was going on.  She told me that his behavior was likely tied to me being 'depleted' and that I needed to take better care of myself.  Ha.  Let me just say that keeping my job/keeping house/paying the bills/managing a remodel and being on call to pick him up on a moment's notice did not facilitate self-care.
By December my adrenals were burnt out.  We had been sleeping in a master bedroom with plastic walls (literally – nothing but plastic sheeting on one side) that would make an annoying "pop-POP" sound every time the winter wind kicked up at night.  The construction wasn't even close to being done and we needed to escape.  Our son had been asking to see snow and I first considered Yosemite because, you see, despite being lawyers we are campers (in 2013 we resolved to camp once a month and we did it. Holla!).  But, California being a DESERT, Yosemite was dry as a bone.  So then I e-mailed my SIL and asked "you know those picturesque photos you posted last year on Facebook?  Where was that?"  To which she replied, "Woodstock Vermont! You'd love it!"  So we cashed out our miles with Southwest and left the day after Christmas.
To be continued…