Once we were in escrow and I had access to the seller's name I googled the heck out of him.  That led me to discover his wife's obituary, which was so beautifully written it solidified my fascination with this house that several called a "tear down."  The fact that she and I shared a love of reading, gardening, dogs and scholarship (we were both HS valedictorians) also cemented my feeling that it was meant to be.
The seller, Buster, passed away this past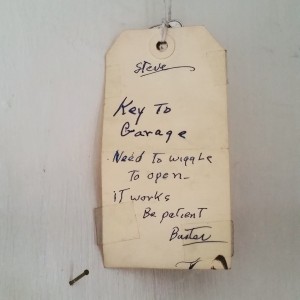 fall.  We never met, but lots of people in town knew him and through their stories and the idiosyncrasies of this house I've formed a picture of someone who was immensely kind and clever, eminently practical and thrifty.   He worked hard and played well.
As contractors are called back repeatedly to update things they've taken to calling a situation a "Buster-ism."  Once, someone started to criticize the way things had been done and I cut him off, saying I didn't want to hear any criticism of the former owner.  It's true, this house needs so much work.  But I have tremendous respect for the couple that built it.  They bought this piece of land and tore down what had been the community "ice chest" – a place where people could store the meat they had hunted and employ a butcher to dispense it.  The lumber was then re-used to build the house on top of two steel beams, using plans from an architectural firm out of Hanover.  It is so solidly built we were able to slap a second story on it without re-framing the first floor.  Before we did, the house was mid-century in style and stood out from the historic Village; further evidence to me that they didn't hew their lives to the conventions of anyone else.
Buster and Betty raised three sons here.  I've met one and was told the other two migrated to California (Ha!).  One of them wrote his parents' obituaries and their stories are so uplifting I thought I'd paraphrase excerpts here.  I'd be surprised if, after reading them, a little piece of you didn't want to move to Vermont, too.  At the very least, they inspire me to work hard, be kind, and live passionately.
Betty was born on the island nation of New Zealand in 1923.  After graduating high school as class valedictorian, she answered the threat of Japanese invasion that followed the onset of World War II by enlisting in the New Zealand Air Force.  Unbeknownst to her, Cupid's arrow was in his bow and her destiny was set when she met a U.S. Army Staff Sergeant who was in country on R and R.  It was love at first sight between them, a self-described infatuation that lasted 67 years.
(I've since met a family whose patriarch claimed responsibility for their marriage, saying that when Betty first came to Woodstock after the war she didn't like it!  I wonder if it was during the winter here.  She went back to New Zealand, whereupon he wrote to her to relay Buster's heartache.  It must have been a compelling letter, for she returned.  What a long journey that must have been in 1945.)
Between them, they built their home of almost 60 years in Buster's hometown of Woodstock, Vermont and produced three boys.  Betty was an avid reader, gardener, and most notably a long distance walker.  Until recently she could be seen walking all around The Village, West Woodstock, Taftsville, and everywhere in between.
Betty will be forever remembered for her sharp wit and intellect, generosity, and unwavering care and devotion to her extended family and beloved husband.  In lieu of flowers, the family wishes for all to simply remember the five foot lady with the three foot stride walking around Woodstock enjoying warm summer days and sharing a smile with all she met.
(That last sentence makes me teary every time I read it. It's so poetic.  As we meet folks around town I mentally file away the tidbits they volunteer.  The neighbors tell me she used to color her sneakers brightly with magic markers and that they'd see her out walking with her dog so many miles from town they'd offer her a ride home, even though they knew she'd turn them down.  One of the dogs they owned in the course of almost 60 years became known for his ability to carry a newspaper in his mouth all the way through town without getting a drop of saliva on it.  The frosty waitress told me Betty was her substitute gym teacher at the high school, and was such a "hardass" they'd hide from her behind the bleachers.  Others remember her prolific flower gardens and the way she'd bake special treats to hand out on Halloween.  Every time I uncover yet another layer of brightly colored wallpaper I think of the fortitude she must have had to leave home at age 22 to live and raise a family on the opposite side of the globe, in a completely different hemisphere.)
Buster passed away this past fall after a very long and interesting life.  He was born in 1917 on his family's farm. [The farm is still in operation today.]  As a boy, his days started early, milking and feeding the cattle at 6 a.m., and then either walking, riding a farm horse, or bicycling many miles to attend school.  After school it was back to the farm to accomplish the never-ending chores and tending the cows. After finishing 8th grade, he began his adult life in earnest, working on the farm and cutting timber for Russeau's Lumber Mill. 
His restless soul soon realized farm life was not for him, so he took a job at F. A. Gillingham and Sons General Store in Woodstock, living in a tent for a summer on the Bump's property on Hartland Hill.  When an opportunity to work for the electric company as a lineman appeared, it reminded him of the childhood altercation he had with the Bethel constable concerning his walking over the top of the town's suspension bridge.  He resumed his daring high wire act, this time stringing many of the first power lines throughout the Upper Valley.
When America was drawn into World War II, he enlisted in the Vermont Army National Guard.  The young man from Vermont soon found himself in Florida for combat training in preparation for deployment to the South Pacific.  After a brief stop at Fort Ord in California, he left San Francisco for the Philippines.  His regiment was thrust into action in the Solomon Islands at Guadalcanal, Rendova, New Georgia, and other campaigns.  At the front in Munda, he led a team of volunteers who laid a communications line through dense jungle behind enemy lines at dusk while under intense enemy machine gun, sniper, and mortar fire.  His valor in the face of the enemy was recognized with award of the Bronze Star and a field promotion to Staff Sergeant.
After months of fighting in the island jungles and contracting malaria, his unit was given rest and recuperation in New Zealand where he met and fell in love with a young member of the New Zealand Air Force.  After the war, he and Betty were married and took up residence in Woodstock, and he returned to work as a lineman for the power company.
Even in those days Buster always had a project going on, a constant theme throughout his life.  While living in a second floor apartment in downtown Woodstock, he built a fishing boat in the living room and floated it out the window on cables to the street below.  There was no end to his creativity and restless desire to write his own destiny, and soon he and Betty bought property with a workshop in Woodstock.  They then set up a business selling and servicing large appliances, bulk tank milk coolers, and commercial refrigeration and air conditioning systems.  There was little he couldn't fix or fabricate, using his skills with a welder and metal lathe to build or repair a wide variety of items for customers.
In 1955 they built the family home on the property, using lumber and metal beams he salvaged from an ice cooled freezer locker he had torn down.  In the years that followed, Buster built much of the home's furniture and landscaped the property, while Betty created and tended beautiful English flower gardens while nurturing their children and doing the shop's book keeping.   Between them they raised three sons, who were introduced to his skillsets through inclusion in many projects and tasks, including cutting wood in the summer to heat the home and making maple syrup in the spring on their woodlot in Prosper.  In the frigid winter months Buster did wood working or gunsmithing projects in the basement, and even designed and built one of the first snowmobiles in the country out of wood, fiberglass, and salvaged mechanical hardware.
After 20+ years as a struggling small business owner, Buster landed the refrigeration systems installation contract for the new Woodstock Inn.  When the Inn opened in 1969, he stayed on in the maintenance department where he sustained the refrigeration equipment for all local area Rock Resorts facilities.  Whenever there was time and opportunity, he took on a wide variety of fabrication projects at the Inn.  After 20 years with the maintenance department, he retired at the age of 72 and spent the summer helping his son build a house.
During his 98 years, Buster lived a fascinating life most people could only dream of.  As a youth, when he wasn't laboring on the farm, he skied on Gilbert's Hill, traveled around the area on his Harley Davidson motorcycle, tinkered on cars, chased the girls of summer at Barnard Lake, and learned his way around a pool table.  He hunted and fished extensively throughout Vermont.  After the war, he took flying lessons and learned how to play golf.
As an adult, all the physical labor he had endured in his early years helped develop him into a natural athlete with a powerful physique and incredible hand-eye coordination, making him competitive in everything he did.  On skis he raced down the face of Suicide Six in under a minute to win a Silver Six.  He won bowling trophies.  For decades all types of shooting events fell to his prowess with rifles, pistols, and shot guns.  With a golf club in his hand he scored 5 Hole in Ones and won many events, including the Woodstock Country Club's President's Cup in 1966.
Buster shot his last 25 straight with his shot gun at the Perkinsville trap range at the age of 92, put away his golf clubs at 96, and laid down his pool cue for the last time at 97.  A year after losing his beloved Betty following 67 years of marriage, he left his home of 59 years to live closer to his son in Colchester.
Buster will be remembered as a role model for the greatest generation that ever lived.  Born in a farmhouse without electricity, he experienced the Depression, the horrors of world war, saw man walk on the moon, and witnessed the dawn of the information age.  He experienced great adversity, and like those of his generation, rose to the challenge of making a better life for himself and his family.
Those who had the opportunity to know Buster will remember him for his amazing sense of humor, generosity in all things, and his boundless energy.  He was an old-world gentleman who worked hard and played even harder.  Betty summed him up best when she once described him as "a man's man."  Most who knew him would certainly agree.
To them.