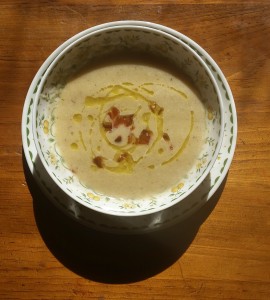 When I was about 9 or 10 I devoured those Choose Your Own Adventure books. Did you read those?  They are not great literary works, but at the end of a chapter you could select from a variety of endings. I read them all (endings and books).  Alas, real life does not often give us such "do-overs," but in the kitchen I seize every opportunity to mess around with ingredients. I'm now toying with the idea of writing a "Choose Your Own Ingredients" cookbook.
To begin, soup is a great dish to illustrate what I mean. Start with this base recipe and choose from what you have on hand. I made this celery root soup for my boys the other day. It was a delicious lunch on a chilly autumn day.
Autumn Soup
1 C alliums, chopped
3-4 C autumn vegetables and fruit, prepped
4 C liquid
2 Tbsp fat
Seasonings
Garnish – optional
1. Start with 1 cup's worth of anything from the allium family. I used 1 small yellow onion and 2 small leeks. I also added a few cloves of garlic.   A whole cup of garlic cloves, scallions or chives might be overpowering, but shallots would be nice.
2.  Sauté the alliums in your fat in a stockpot.   Butter, ghee, lard – anything goes. I try not to heat my olive oil at high heat unless it's mixed with a more stable fat. We had bacon for breakfast and the pan was still on the stove, so I used the bacon fat to sauté the alliums.
3. Add in your vegetables – I used a large celeriac/celery root bulb (peeled and sliced) and then 3 apples (just sliced, not peeled). You could use any combination of butternut squash, carrots, beets, potatoes, sweet potatoes, pears….
4. Then add in your seasonings – salt and pepper are always on my list. I also added a few sprigs of fresh thyme. Sage is nice (esp with butternut squash) and so are bay leaves. Or curry powder, garam masala…whatever strikes your palate as tasty that day.
5. Cover the stockpot and simmer on medium-low until the vegetables are soft (15-20 minutes). Then add your liquid. I generally use chicken broth because I usually have some going in a slow cooker, but you could use a combination of stock, water, wine, juice – etc. I was going to add in a splash of apple cider because we have a lot, but I forgot.
6. Simmer a bit longer and then puree to your liking. Sometimes we're in the mood for creamy and sometimes chunky. (We like both kinds of peanut butter, too.) Normally I use an immersion blender but I burnt mine out, so I waited for this to cool a bit and then ladled it into my countertop blender.
7. Serve, and garnish if you like. I drizzled ours with unfiltered olive oil and some crumbled bacon left over from earlier that morning (I know, leftover bacon???). You could also crisp up some sage leaves or toast some nuts in fat – I contemplated using pecans and walnuts. A dollop of crème fraiche, sour cream or yogurt is also common in this house.
Whatever you decide, it's usually worth taking this extra step to add another layer of flavor and texture. Even my 8 year old appreciates it – and that says a lot in this house right now.