My close friends know I love a good cocktail.  Actually, even loose acquaintances manage to pick that up pretty quickly.
My criteria for "good" are this: not too sweet; doesn't require expensive/random liqueurs; doesn't give me a migraine; tastes good. Bonus points for use of an egg white, spices, herbs or produce (not all in the same drink.)
Last year I stumbled upon a recipe for a "Turkey Wattle," but the recipe called for ginger syrup and a pricey allspice liqueur. I'm all for making syrups if I think I'll use them again, but at the time I modified the recipe to use what I had on hand and, conveniently, not use any cane sugar.  It is delicious.
2 oz Jim Beam bourbon (because the expensive stuff gives me headaches)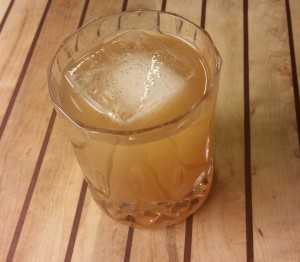 1 oz (2 TBL) apple cider (unfiltered/unpasteurized is best)
0.5 oz (1 TBL) of maple syrup (the darker the better)
Dash of bitters
Dash of allspice (this is required)
Shake together with ice and then top with 2 oz Maine Root ginger beer (which makes anything taste good). You're welcome.
*in the spirit of my designs on a "Choose your own ingredients" cookbook, I modified the recipe here in Vermont and dubbed it the "Major Caruncle." Isn't that a clever name for a cocktail?  If only it tasted as good as the Wattle.  I subbed in VT Sweetwater maple seltzer for the ginger beer and Sapling liqueur for the maple syrup.  I concede, they violate my rule against random ingredients, but here in Vermont they're readily available and conveniently always in stock at our house.  Sadly, despite the awesome name the drink fell a bit flat without the spicy kick of ginger.  Oh, well.  Maybe I'll just re-name the first recipe.