I try to be mindful of the tendency to sugarcoat things on social media, and while I love to peruse pretty filtered photos on Instagram (my mind candy), I prefer to read the good, the bad AND the ugly when it comes to blogs. So the aforementioned pledge is simply that I promise to try to keep it real on A Life, oops, Year in Vermont.
Now for the game. Our son doesn't always share much about his day. Back in California if I wanted to get the dirt on what was happening on the school yard (besides the actual digging of the dirt) I had to call on a mom of onewhoshares.  Until I came up with this game a few years ago. We call it "Bright spot, Dark spot" and the gist is this – at bedtime, after stories and lights out, we'll each take turns sharing a "bright spot" and a "dark spot" (or 3)  from our day. I suppose the bright spot is a form of gratitude practice. And we may not always have a dark spot to share (tho' E recently introduced the "dim spot" into the game). But I sure am grateful for our little tradition now that we're at a new school and I don't have anyone else to fill me in.
Which brings me to my plea. You see, tonight my dark spot is that I had to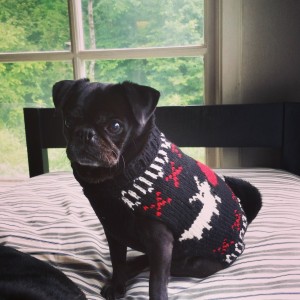 remove 3, yes – THREE, ticks off my precious pugs. And last week we found what looked like an erythema migrans (aka 'bullseye') on our boy; that night he spiked a high fever so the next day we put him on a 2 week course of antibiotics.
If I ever get around to posting more recipes a trend will emerge that I am a big fan of Hippocrates and devote a lot of my resources to maintaining our gut health. So the antibiotics are a big deal to me, and I can't foresee us taking them repeatedly on account of these noxious ticks.
What's a girl to do? I've heard ticks don't like folks high in B vitamins so we've re-upped those (our D.O. recommends this supplement; there's an adult version, too). Practically everything I make includes onions and garlic, and we eat very little sugar. We have the elements of a homeopathic protocol which I'll give E after the antibiotics (the fever and headache came on hard and fast and I wasn't comfortable relying on it solely) – but what to do with the poor dogs?  They now receive both topical and oral meds to kill ticks, but it doesn't seem to prevent them from biting.  These are teeny tiny super-villainous bugs.
I'm putting this out there in the event someone has an old remedy to share. Folks around here alternate between shrugging it off, saying they're part and parcel of living in Vermont, to regaling me with horror stories of chronic Lyme disease. But I refuse to give up. I still love it here, and if that means we need to make citronella our signature scent, so be it. I'd just love to accumulate as many defenses as I can.